Quick Filing
Using the Quick File Features
In addition to all the basic filing methods such as dragging messages, using File to Folder (Ctrl+Shift+V), and Outlook Rules, NEO has two Quick File features:
Quick File
<![if !vml]><![endif]>

Click Quick File on the ribbon or on the right-click menu (or press Ctrl+I).

This will immediately file the message to your designated Quick File folder.

Use it when you use (primarily) a single folder to file your messages.
Quick File Recent
<![if !vml]><![endif]>

Click Recent on the ribbon or Quick File Recent on the right-click menu (or press Ctrl+Alt+V). This displays a list of your most recently filed-to folders for easy selectionHelp_Setting_the_Quick_File_folder.

<![if !vml]><![endif]>

Use the accelerator keys for quick selection. For example, pressing M will file immediately to the Meetings folder.

You can change the Quick File Recent menu using the Clear List and Disable List Updates commands.
Setting the Quick File designated folder
Before using Quick File you need to designate which folder you want as your Quick File folder:
1. Right-click on any message then click Quick File Recent | Set Quick File Folder.. .
2. Select where you want the folder created, then click New.
3. Enter a name (e.g., QuickFiled or Current Year).
4. Click Ok then click Close.
Changing how Backspace works with Quick File
Backspace is an easy key to hit, so in NEO we let you assign Backspace to one of three frequently-used workflow operations: Make Inactive, or one of two Quick File commands:
1. File to your Quick File folder, or
2. Display the Quick File Recent menu.You can get more productivity by setting your Backspace key.
If you file frequently to specific folders, 'Display the Quick File recent menu' is a good choice.
If you mostly want to quickly move messages from your Inbox, choose 'File to the Quick File folder'. Try each one to see what works best for you.
Note that Backspace is an additional (surrogate) key. You can always use the permanent key to perform each action. For example, you might want to use these keys if you have assigned Backspace to Make a message Inactive. Here are the permanent keys:
| | |
| --- | --- |
| Quick File | Ctrl+I |
| Quick File Recent | Ctrl+Alt+V |
Two commands on the Quick File Recent menu allow you to manage the list of folders that appears on the list.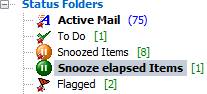 Use Clear List to remove the list of entries that have been added. Use Disable List Updates to prevent new entries from appearing on the list.
Procedure for Controlling the List
Suppose you wanted to set a specified list so that it was unchangeable. This is particularly desirable when you want to use accelerator keys for selecting folders to file to. If you set Backspace to display the Quick File Recent menu then filing to folders is as easy as pressing Backspace then the first letter of the folder you want to file to.
Here's a way to set that up:
1. Click Clear List if you want it to be different that what it is.
2. Create your folders and file a message (a test message perhaps) to each of the folders you want. If you are particular about the order, file last to the folder you want on the top.
3. Click Disable List Updates. This will prevent future updates to the list.
If your folders have the first initial letter, you will have to press the letter twice (or you can rename one of the folders). When you want to have NEO add new folders to the list, uncheck Disable List Updates.